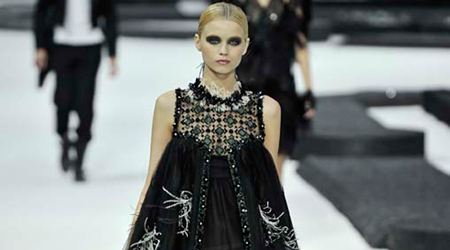 The first striking thing about Chanel's Spring collection was its breathtaking set; the Grand Palais had been entirely Karl-ified.
| by (PARIS) CHANEL | 2010 |
Gone were the stadium seats that generally greet guests to make room for a magnificent garden, fountains compris, inspired by Last Year at Marienbad. The runway was made of dusty white sand, and a full orchestra accompanied the 85 models as they showed off a dazzling array of colors like lemon, Chanel pink, teal, black, and of course, white. The concept of feathers reigned supreme, as they decked out classic Chanel tweed suits (shown for Spring with short-shorts) and outerwear. Deconstructed floral prints were paired with thigh-high boots and lethal noir wedges. Embroidered jeans and feathered columns underscored the wide range of this maison's expertise. There was a sharp contrast between pale tweed trenches and deconstructed floral prints dresses intriguingly paired with thigh high boots. At one point, a massive umbrella and Brad Kroenig's petit son made cameo appearances on the runway. The crowning glory? When Karl's favorite femmes like Inès de la Fressange, Crystal Renn, Sasha Pivovarova, and Stella Tennant masterminded the finale, which was accompanied by the magnificent sounds of "Bitter Sweet Symphony." "It was simply breathtaking and epic," raved Keira Knightly. "If only everything in life would be like a Chanel show!"
VALENTINO
It's tough to believe that the Maria Grazia Chiuri and Pier Paolo Piccioli who designed Valentino's Spring 2011 collection are the very same designers who showed that reserved, lackluster affair after the abrupt departure of Alessandra Faccinetti. Because these designers deeply understand drama and romance, and their take on Valentino becomes more focused—and more interesting—by the season. How can you not like '70s-style long-sleeved dresses, perfectly rendered in silk and organza and tulle, covered in hand-sewn leather polka dots with tiny leather flowers covering the front panels? How can you strongly object to a restrained palette of nude, bone, black, royal red, and framboise? Backstage, Valentino Garavani, expressed his appproval of a show that stayed true to the brand's "DNA"—but this Valentino is not quite the same as the one Chiuri and Piccioli inherited. It is quietly emerging as the house that fashion-obsessed young women will depend on for a statement shoe, a progressive evening gown, or a cocktail dress that might make her husband's heart stop. And make sure to check out those bags.