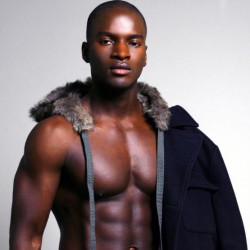 Most people share the dream of being discovered or at the very least, finding the ideal career, but if you're anyone like Cherif Ndiaye, your profession would have discovered you.
| by Lucy Coutinho | Shy M. |
Constantly being approached by photographers, Ndiaye wasn't always open to the idea of modeling but after a few photo shoots, he decided to give it a shot. His career has since taken flight as Cherif is signed with both L.A. Models based in California, and Major Model Management in N.Y.C.
When did you first discover your passion for modeling? Did you think that you would make it a career?
"I moved to L.A. from Senegal in 1994 and attained a degree in Computer Science. It wasn't until I was approached by photographers that I decided to give modeling a chance. I was approached in 1998 and officially started modeling, taking pictures and got signed with different agencies."
You live in L.A. but also split your time between the West Coast and New York City, what has that experience been like?
"I love the West coast, especially the weather; I like being close to the beach. The weather is amazing! The mountains…I do a lot of mountain climbing—I Iike to be outdoors. I am a bi-coastal model and travel to N.Y.C. once a month, so I go back and forth."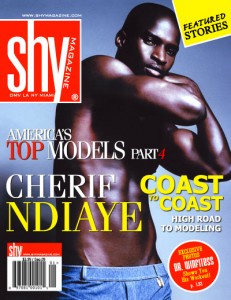 What type of modeling do you do?
"I model for high fashion designers such as Gucci, Hugo Boss, Calvin Kline, Christian Dior, and Sean John just to name a few."
It is such a competitive and subjective profession. Can you shed some light for those starting off? How do you stay focused and positive?
"Modeling is very superficial, but you have to know what you are in it for. When you're successful in it, it can be very rewarding."
How do you handle rejection?
"Rejection is second nature. It's all a part of the process. You cannot be the right fit for everything. You are exposed to rejection all the time. Ultimately, the decision is not yours."
What are some of the rewards to being a model?
"You grow as a model and you also grow with the photographers. Work becomes consistent and you build more clients. It is a very competitive business and I am glad that I can be amongst the top. I have been doing it successfully for quite a while."
What makes you a professional model?
"The personality is crucial! Getting the job done and booking a job just isn't enough. It's important for a model to be positive and have a good personality."
In 2007, you launched your clothing line, ADUMAN. How would you describe its style and the inspiration behind it?
"I wanted to incorporate my personality into my clothes; a nice style of dressing. I am a jeans and t-shirt type of guy. It's trendy, hip, casual, but very cool. I get my inspiration from working with major designers and this is also where I get my designing ideas. I learn from the best of the best."
Ultimately, it is his spirituality that he relishes, which to him, makes it all possible. "God is great! My spirituality is the reason why I am where I am today."




Click here
to learn more about Cherif Ndiaye